There are many fun ways to improve visual perceptual skills. From arts and crafts to games, you can take advantage of everyday activities to improve one's ability to remember visual information.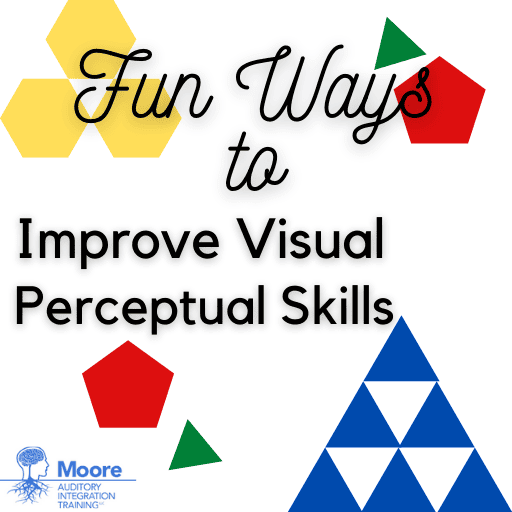 What are Visual Perceptual Skills?
Visual perceptual skills enable a person to interpret or give meaning to what they are seeing. Perception is one type of visual processing skill, the way the brain interprets and processes visual information. Visual perception is not tied to how well one can see. A person can have 20/20 vision and still have visual perception deficits.
Fun Ideas to Improve Visual Perceptual Skills:
Ping Pong
Tennis
Carving and Woodworking
Stain Glassmaking
Making pottery is great for stimulating the proprioceptive system (sensory feedback from touch and pressure)
Tangram puzzles (develop visual-spatial skills)
Mazes
Dot-to Dots
Connect Four
Hidden Pictures: I Spy Picture Riddles
Card Games
Card Games
Below are some of my favorite card games to improve visual perceptual skills.
SET: The game SET can be played at an easy level and then at a harder level. There is a board game and a set of cards (more challenging for older children). This card game was used in a research study that determined that conceptual processes are affected by perception.
Rush Hour: Ages 8 and up; Traffic Jam/Logic game. Rush Hour is a challenging game of strategy and visual thinking. There are four levels of difficulty so kids and adults alike can enjoy this
puzzle. Get the large cards.
Spot It: Ages 7 and up; Spot It is a fast-paced matching and visual perceptual game. This game develops focus, visual perception skills, speech-language skills, and fine motor skills.
Blokus: Ages 5 and up; Blokus is a strategy game that encourages creative thinking and spatial
planning. As players take turns placing their 21 pieces on the board, each piece played must
touch another piece of the same color, but only at the corners.
Blink: Ages 3 and up; two players race head-to-head to be the first to play all of their cards. It encourages sharp eyes and fast hands as players quickly try to match the shape, count, or colors on the cards.
Please avoid the use of computer games. Computer games do not involve enough physical motor movements with touch sensory input and feedback to the brain. Interacting physically with sights and sound improves visual perceptual skills.
Types of Visual Perceptual Skills:
Spatial Relations
The ability to determine one object or form that is turned in a different direction than those around it. For example: recognizing that b and d or p and q are different letters because they are turned in different directions.
Figure Ground
The ability to perceive a form and find it hidden in a group of like objects. For example: find a blue crayon in a box of crayons.
Visual Discrimination
The ability to tell objects and forms apart from one another. For example: sorting money and coins.
Form Constancy
The ability to see a form or object among like objects when it is a different size or rotated. For example: recognizing letter and numbers that look similar but have different means such as 6 and 9.
Visual Memory
The ability to store details about the visual appearance of an object in short-term memory. For example: showing a picture to someone, taking it away, and asking them questions about the picture.
Sequential Memory
The ability to remember a series of forms and find it among other forms. For example: placing ABC magnets in the correct order on the fridge.
Visual Closure
The ability to fill in missing details for an incomplete shape or word. For example: being able to see the picture in your mind and put together the puzzle.
Understanding Cognitive Vision
"Each visual pathway to the brain has a matter of a few weeks' "window of opportunity" to develop, e.g. the ability to differentiate horizontal from vertical. If a child misses that window then, without specific corrective therapy, they will not develop that skill."

In a properly developed secondary student, 80% of learning is visual. If a student is not a visual learner, then they will have to work a lot harder than other students. As a result, it negatively impacts their behavior and energy levels.

If a child does not develop strong cognitive visual pathways, then they will be dependent on their auditory pathways. When they are dependent on their auditory pathways, they can become very distracted in noisy environments. Visual processing skills are much more than 20/20 visual acuity.
To understand cognitive vision more fully, watch YouTube clips such as the following:
• Vision Therapy – "World Health News Today – How kids can improve their vision through exercises"
• Vision Therapy Saved My Life – Dr. Roberto Kaplan talks about how vision therapy saved his life
What Should I be Looking For?
Moore Auditory-Visual Observation Activity Booklets
I have created observation activities to help parents and professionals learn, what to observe and how to observe. The activities are a great resource to help you learn if visual perceptual skills need improvement.
The Moore Auditory-Visual Observation Activity Booklets are available for purchase online. They help you learn if your preschooler, child, teen, or even an adult is struggling with sound sensitivity, auditory processing, or visual processing difficulties. Equally important, the observation activities provide opportunities for you to connect with your loved ones and show you care.