Make your own gluten and dairy free cornbread, baked goods, and fried foods with freshly milled grains like cornmeal.
My gluten and dairy free wholesome cornbread has a texture so light, moist, and sweet that my husband calls it corn cake. In the past, I baked cornbread using organic cornmeal that was a bit large and gritty. After I purchased the Mock Mill, I was thrilled to learn that it was powerful enough to mill corn grits, polenta, into a fine flour. Now after just one bite, I find it almost impossible to stop eating this delicious bread.
Wholesome Gluten Free Cornbread
Eat all you want of this wholesome gluten and dairy free cornbread with just the right amount of sweetness. Wholesome because according to WebMD, one ear of corn has 7 milligrams of vitamin C; lutein and zeaxanthin protect the lens of your eyes helping prevent cataracts.
Since making up my mind these past few months to only eat organic, I was relieved to find organic 100% corn tortillas made by LaTortilla Factory. I am looking forward to someday creating my own.
If you would like to make your own tortillas and can tolerate some gluten, try this delicious Einkorn sourdough tortilla recipe.
Ingredients for Gluten and Dairy Free Cornbread
1/3 cup high-heat oil (grapeseed, sunflower, safflower)
2 eggs
1 cup dairy free milk (almond cashew is high protein)
2/3 cup of organic cane sugar
1 cup of gluten free flour such as millet or oat flour
1 cup of organic cornmeal
3 & 1/2 tsp aluminum-free baking powder
1 tsp sea salt
Directions for Gluten and Dairy Free Wholesome Cornbread
Before you start making this gluten and dairy free wholesome cornbread, read through the whole recipe because the very first ingredient, oil, is measured first but is used last. That tip gives this cornbread the perfect texture.
Measure 1/3 cup of high-heat oil like Grape seed oil or safflower oil.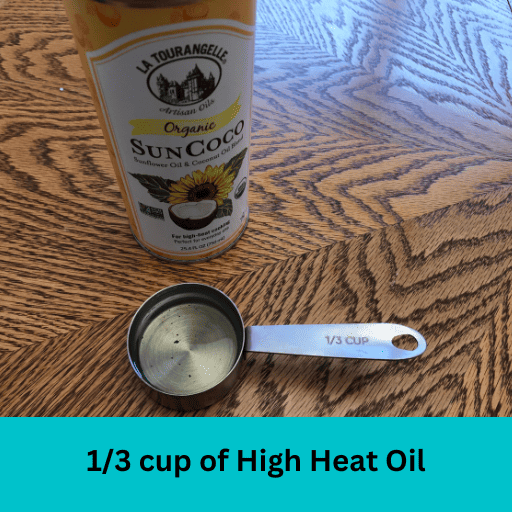 Pour 1/3 cup of oil into a cast iron skillet or oven safe pan and set aside. Preheat the oven to 400 degrees Fahrenheit.
While the oven is preheating, mix the ingredients in a metal bowl. You must use a metal bowl because hot oil is poured into the cornbread mixture at the end of the recipe.
Break 2 eggs into a metal bowl.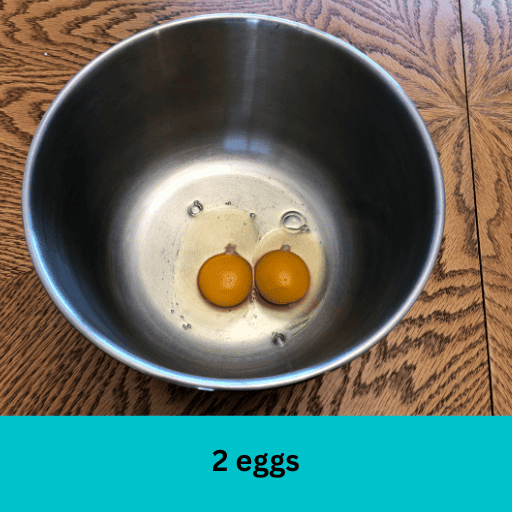 Add 2/3 cup organic sugar.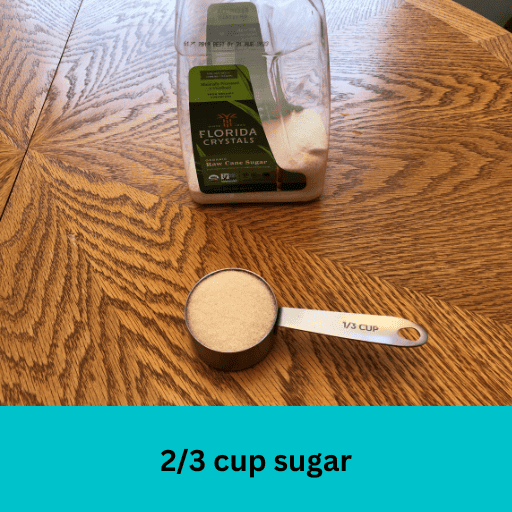 Measure 1 cup of dairy free milk. If you need additional help keeping your blood sugar stable, almond cashew milk has 10 grams of protein.
Now, pour the 1 cup of milk into eggs. Then, mix with a whisk or fork.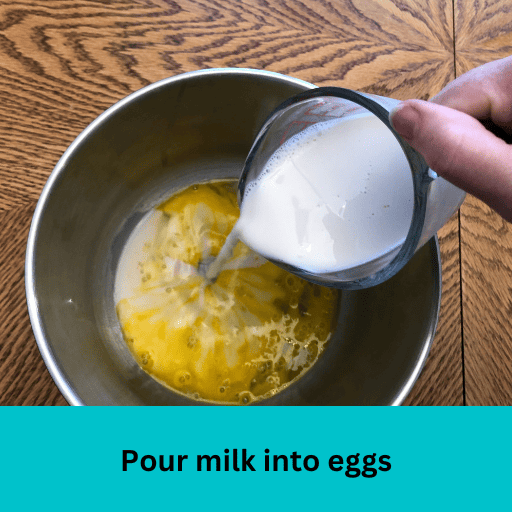 Pour in 1 cup of milled cornmeal flour into the metal bowl.
Since I add sugar to this delicious gluten and dairy free cornmeal batter, oat flour's high fiber content is the best choice for keeping your blood sugar more stable. I have also had success with millet flour. If you use a store bought gluten free flour, the texture will be a bit heavier.
Experiment to learn what your family prefers.
Measure 1 cup of gluten free flour. Then, pour the cup of flour into the cornbread batter and mix.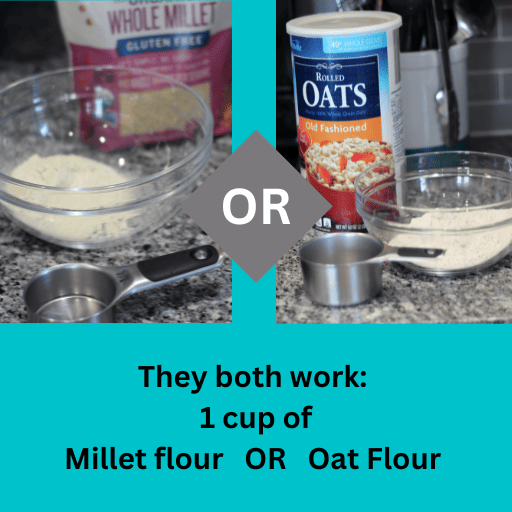 Preheat Your Cast Iron Skillet
Before adding the rest of the ingredients into the cornbread batter, put your cast iron skillet filled with 1/3 cup of oil into the preheated oven.
Set timer for 4 minutes. Now, continue making your cornbread batter.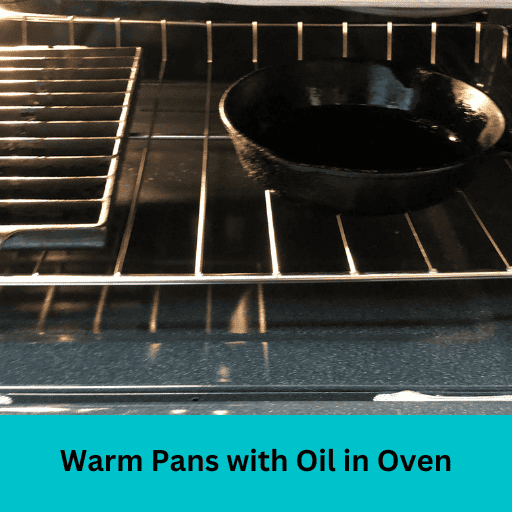 Continue Combining Ingredients
Now, add 1 tsp of salt to the gluten free cornbread batter.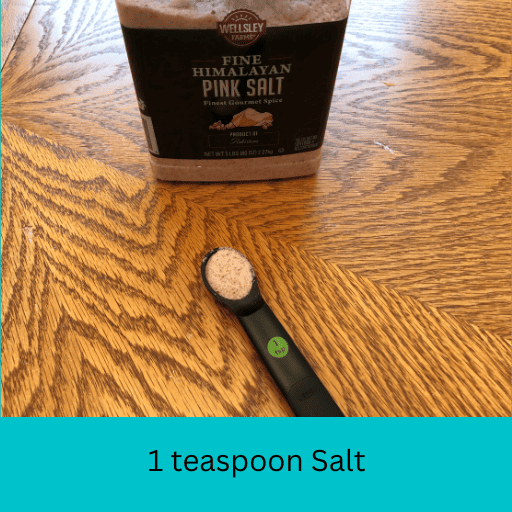 Add 3 & 1/2 tsp baking powder and mix until the cornbread batter looks creamy.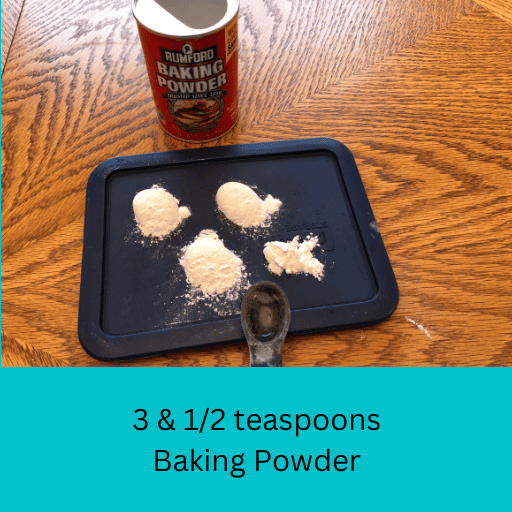 Put the metal bowl on the stove or a cookie sheet, because the bottom of the metal bowl gets hot. Carefully pour hot oil into the gluten free cornbread batter. Then, put the hot cast iron skillet back down on the stove. Immediately mix cornmeal batter with a whisk or fork until the oil is thoroughly mixed into the batter.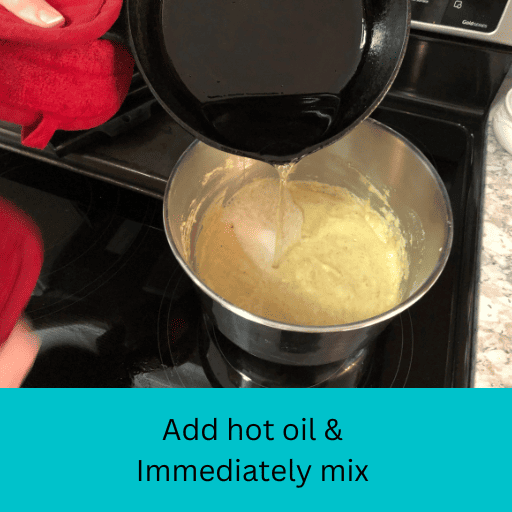 Do you see how the hot oil expanded the batter activating the baking powder?
While pouring the cornmeal batter into the hot skillet, be careful to hold the top of the bowl. Use a rubber spatula to remove all the batter.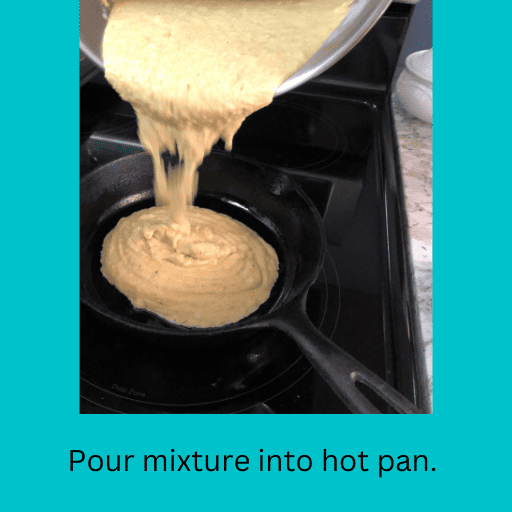 Now, put the hot skillet of cornmeal batter into the oven. The hot pan gives the crust of the cornbread an amazing texture sealing in the moisture.
Set the timer for 20 minutes.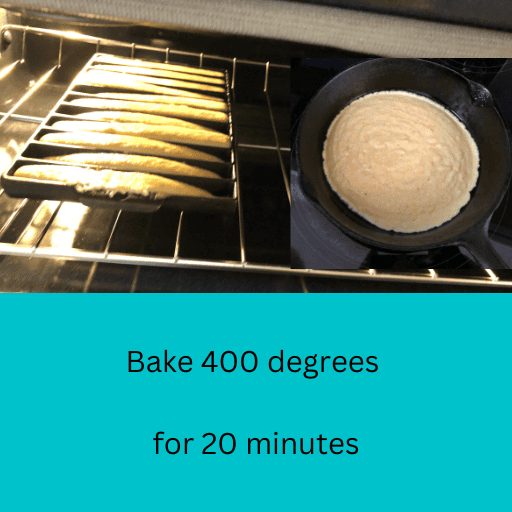 You know the cornbread is done when it has pulled away from the edges of the pan. The top of the cornbread should look golden brown with a few small cracks.
I like to keep the gluten free cornbread hot throughout the meal by leaving it in the cast iron skillet. After we eat, I allow it to cool for an hour or longer on a cooling rack.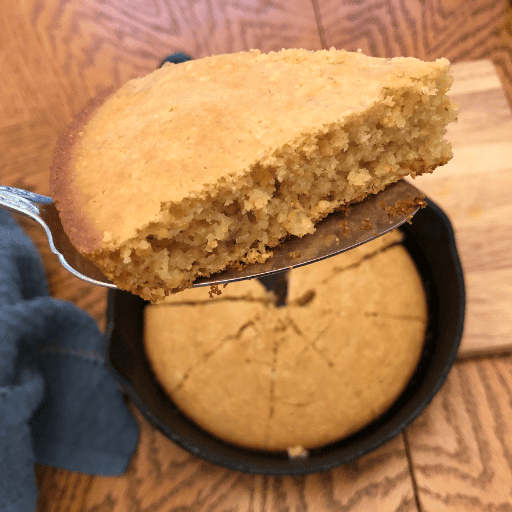 There is nothing like the flavor of hot buttery, sweet cornbread on a cold winter day with a bowl of soup or delicious chili. In our family, gluten and dairy free cornbread is a must with a plate of fried fish or crab cakes.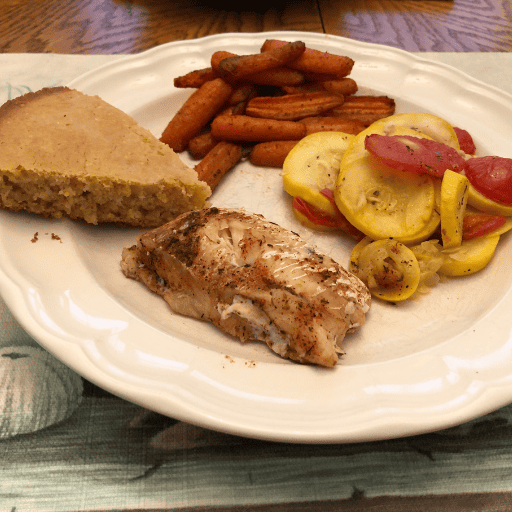 Printable Recipe Card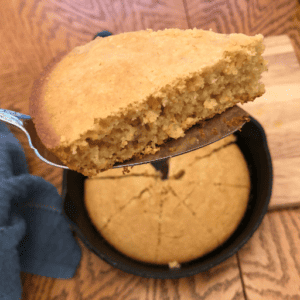 Wholesome Gluten and Dairy Free Cornbread
Wholesome, freshly milled grains in this light and moist gluten free cornbread is perfect with just about any meal all year long.
Equipment
1 Metal or glass bowl

1 Cast iron skillet
Ingredients
1/3

cup

high heat oil

grapeseed, sunflower, safflower, etc.

1

cup

dairy free milk

almond cashew milk is high in protein

2/3

cup

organic cane sugar

1

cup

gluten free flour

millet, oat, or an GF all-purpose flour

1

cup

organic cornmeal

1

teaspoon

sea salt

3½

teaspoons

aluminum free baking powder
Instructions
Measure out 1/3 cup of high-heat oil and pour into a cast iron skillet or an oven safe skillet. Then, set aside

Preheat the oven to 400 degrees Farhenheit

While the oven is preheating, break 2 eggs into a metal or glass bowl

Add 2/3 cup of organic cane sugar

Add 1 cup of dairy free milk

Mill 3/4 cup of course cornmeal to create 1 cup of freshly milled cornmeal flour. Then, add cornmeal flour to the bowl.

Measure out 1 cup of your chosen gluten free flour and add it to the mixing bowl.

Once your oven has preheated, place your oven safe skillet(s) on the middle oven rack to preheat for about 4 minutes.

Meanwhile, add 1 teaspoon of salt to the mixing bowl.

Now, add 3½ teaspoons of baking powder and mix all ingredients together until batter looks smooth and creamy.

Remove the hot skillet from the oven and pour the hot oil into the mixing bowl. Immediately whisk oil into mixture. You will see the mixture expand as the hot oil activates the baking powder.

Once the oil is fully incorporated into the mixture, pour the gluten and dairy free cornbread batter into the hot skillet.

Bake at 400 for 20 minutes or until golden on top