You may believe this is a blog to skip over, ignore. However, sometime during your lifetime you or someone you know will experience hearing loss. Thus, it is important to know the ways hidden hearing loss surprisingly affects behaviors. What you learn will astonish you.
When behaviors are present from birth, parents may think that developmental difficulties are attributed to another diagnosis. Thus, unavoidable. They may think, You act just like your aunt or uncle… Perhaps that same relative has an unknown hearing loss.
There are more than 5 surprising reasons that hearing loss begins after birth. Some of these are genetic. Central Auditory Processing Disorder is a hearing loss that you can be born with or acquire after birth.
A Hidden Hearing Loss, Central Auditory Processing Disorder
One type of hearing loss, Central Auditory Processing Deficits (CAPD), is often referenced as hidden because those with CAPD pass a typical hearing test. However, they will present hearing loss behavioral characteristics which are important clues to pay attention to. You can observe their behaviors. The video below helps you understand the hidden hearing loss that occurs past both inner ear's cochlear.
CAPD, A Hidden Hearing Loss
Did you know that the very act of raising your voice causes it to sound unfriendly, angry? Sadly, children with hidden hearing loss find it more difficult to hear the more friendly tone of an everyday, normal volume of speech. Yes, a louder voice helps them hear. However, children and adults with hearing loss too often hear a raised voice filled with frustration or anger. Imagine how this affects the whole family and the one with hearing loss.
From a parent's perspective, I remember times when I was frustrated by my inability to help my child. We both experienced an outpouring of emotional distress. Thus, take a breath, count to ten, or walk away for a few minutes. Then, forgive yourself. Reassure loved ones that you are frustrated because you do not know how to help them. You want to understand their behaviors. You may discover that your loved one is also frustrated not understanding their own behaviors.
Hidden Hearing Loss Isolates
Unfortunately, the surprising behavioral characteristic of social isolation occurs with hidden and typical hearing loss. Hidden hearing loss makes it is too difficult to enjoy group conversation.
Depending on their personality, the person may take over the conversation or leave. When they leave, they are unintentionally rejecting their peers or family members who just joined the conversation. Then there are children who want to socialize. However, fear of embarrassment or causes them to isolate.
Hidden Hearing Loss Lowers Self Esteem
I was surprised to learn that children with known hearing loss suffered from low self-esteem while interacting with parents and peers (1). Also, researchers (2) found that children with hearing loss were more likely to have attention deficits, behave defiantly, and respond with aggression. These behavioral responses make sense when you think about the challenges of hearing loss.
Can you imagine having unknown hearing loss. Parents, siblings, and peers are unaware of daily challenges like listening difficulties, increased likelihood of misunderstandings, repeated failures despite effort, and most likely many negative interactions with loved ones and peers.
You Can Meet Listening Needs
When there is hearing loss, it is much easier to talk with just one other person. Why? Because background sounds from the environment are often louder than speech. Thus, all ages with any degree or type of hearing loss struggle to listen in a noisy environment. You can help when communication challenges exist.
Encourage your child to talk by hanging out with them. Instead of asking questions, share a memory, your feelings, or enjoy the quiet moments. When my children were teenagers, I discovered that walking stimulates the speech center. Our daily walks became a wonderful way to connect. My typically quiet son started talking more than his sisters even after returning from our walks. I loved every moment!
Are There Hidden Hearing Loss Behaviors?
When a traditional hearing test finds no hearing loss concerns, hearing loss can still exist. A Moore Auditory-Visual Questionnaire Report shares the intensity of behavioral concerns. You can learn if behaviors are associated with central auditory processing difficulties, typical hearing loss, sound intolerance, and visual processing difficulties.
If you reply, Yes, to even one of the characteristics below, I encourage you to complete a Moore Auditory-Visual Questionnaire. Then, save your Moore Auditory-Visual Questionnaire Report on your device. At any time, schedule a free phone consultation. Once finished, email me your Moore Auditory-Visual Questionnaire Report.
Is it difficult to figure out the sequence needed to complete a task?
Do you struggle to say what you mean to say?
Are your thoughts all mixed up?
Do you miss parts of a conversation?
After listening to directions, do you become confused or misunderstand?
Despite needing help, do you prefer to read and figure it out rather than listen?
While watching TV, do you prefer to read subtitles?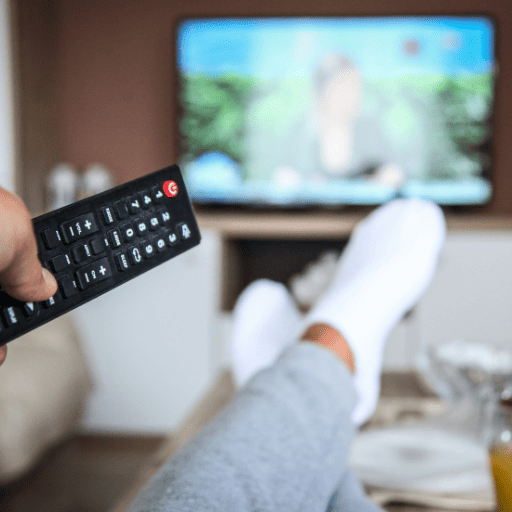 My blog post, Autism, A High Risk of Hidden Hearing Loss, shares many of the behavioral characteristics associated with typical and hidden hearing loss. For example, do you listen to the TV at a volume that is uncomfortable for others?
Who Is at Risk for Central Auditory Processing Disorder, A Hidden Hearing Loss
Hearing loss can be genetic or occur after birth. Who is at risk for developing central hearing loss? Infants and babies born with enlarged adenoids who suffer from chronic inflammation of the Eustachian tubes resulting in hearing loss (Haapaniemi, 1995). Inflamed Eustachian tubes hurt and distorts speech sounds. Distorted sounds affect development of clear speech. Chronic lack of strong sound energy stimulation to the brain fails to develop a strong auditory processing system within the brain.
Enjoy vestibular play with your little one to stimulate the hearing system. They may need gentle play as you slowly build up their tolerance to movement.
Any degree of hearing loss compounds the challenges of a genetic diagnosis like Autism, Attention Deficit Hyperactivity Disorder (ADHD), or Dyslexia.
Roger Focused Amplification Hearing Aid System
Sadly, distorted sounds make it more difficult to listen with comprehension. Distorted sounds disrupt the development of speech. Also, learning and listening is much harder. When mistakes are made after listening, all ages feel defeated as they are scolded by a parent, teacher, or boss.
Thankfully, advances in technology are helping children with a diagnosis of autism, central auditory processing deficits, and attention deficits with hyperactivity succeed at school. A unique feature of the Roger Focused Amplification system is the Roger Pen and accessories that amplify the speaker's voice into the listener's hearing aid(s). At the same time, the hearing aid(s) suppress background competing sounds. Thus, speech sounds are heard more clearly and distinctly.
Who Recognizes Surprising Behavioral Characteristics of Central Auditory Processing Disorder
Have you ever thought about the roles of different professionals?
For example, schools evaluate learning.
Another example, psychiatrists and psychologists evaluate mental health.
Lastly, family physicians screen the hearing for typical hearing loss.
Audiologists look for typical hearing loss that meets hearing aid dispensing guidelines. If parents find an audiologist familiar with behaviors associated with Central Auditory Processing Deficits, they are the lucky ones. Those parents are given a referral to an audiologist specializing in Central Auditory Processing Deficits. Because research shows the benefits of hearing aids, I encourage working with an audiologist who is also licensed to provide hearing aids.
Moore Auditory-Visual Questionnaire
Experience has taught me the importance of knowing the intensity of your hearing and auditory processing challenges. Parents and adults benefit from advocacy support. I help you more fully understand the process ahead, prepare for appointments, and connect you with specialists in your areas of concern.
It is worth your time and effort. Working together with your loved one to answer questions on the Moore Auditory-Visual Questionnaire improves understanding of hidden hearing loss behaviors. Your loved ones will begin to understand themself and feel understood. Hope begins to blossom.
Moore Auditory Observation Activity Booklet
Are you ready for help? If unsure, learn how hearing loss weakens auditory processing skills using the Moore Auditory Observation Activity Booklet.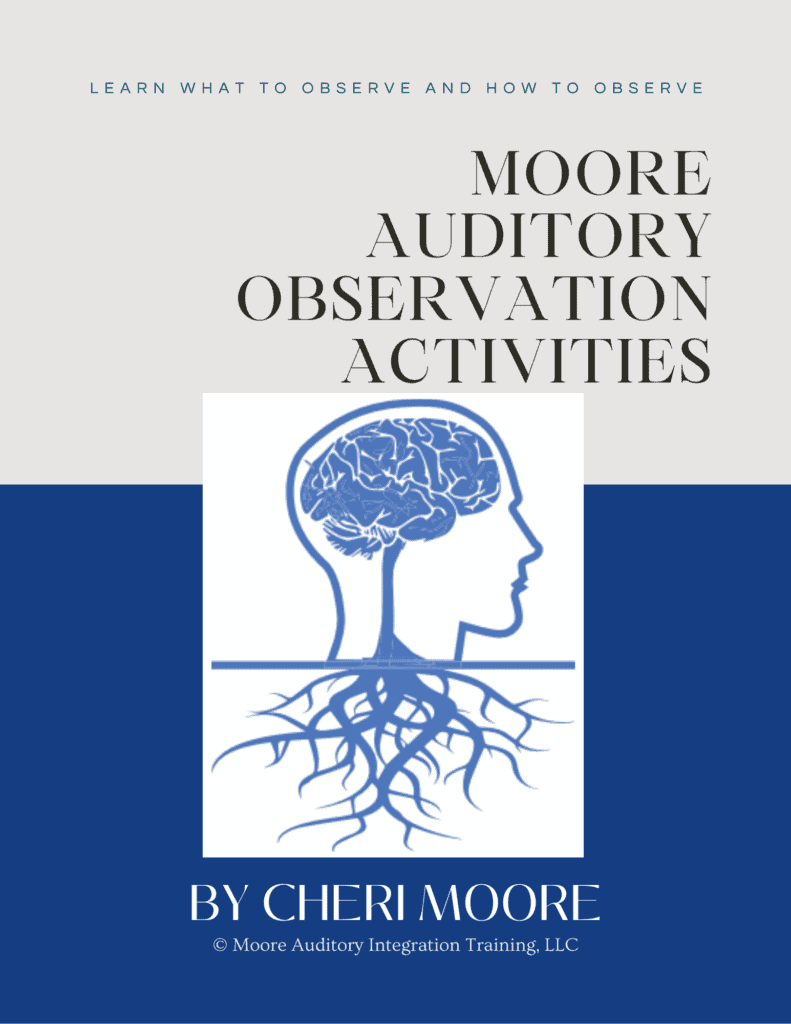 Moore Auditory Observation Activities Booklet
The Auditory Observation Activities help you learn about your client's or loved one's auditory processing difficulties. Activities teach you how to observe and what to observe. Each activity provides you with the opportunity to connect with them and acknowledge their hard work and tenacity. Also, the next step page gives you the opportunity to talk about the ways you can help them.
Build a stronger relationship with your loved one as you: "see" through activities and "hear" through their answers how their world "looks and feels" through their "eyes and ears".
The Moore Auditory-Visual Questionnaire allows me to help more families across the nation and provides wonderful insights. Additionally, parents save money and improve their ability to communicate concerns. Together, we develop an assessment plan. Then, an intervention plan. Receive Step-By-Step help.
Also, understand the importance of a medical evaluation in the development of your Auditory-Visual Training program.
Resources
Stephanie C. P. M. Theunissen, Carolien Rieffe, Anouk P. Netten, Jeroen J. Briarire, Wim Seode, Maartje Kouwenberg, Johan H. M. Frijins (2014). Self-esteem in hearing-impaired children: The influence of communication, education, and audiological characteristics. PLOS ONE 9(4): e94521. doi:10.1371/journal.pone.0094521.
Stephanie C. P. M. Theunissen, Carolien Rieffe, Anouk P. Netten, Jeroen J. Briarire, Wim Seode,Maartje Kouwenberg, Johan H. M. Frijins (2014). Behavioral problems in school-aged hearing-impaired children: The influence of sociodemographic, linguistic, and medical factors. Eur child Adolescence Psychiatry. 23:187-196. DOI 10.1007/s00787-013-0444-4.