Kids, spouses, and guests love this delicious gluten free holiday pumpkin bread.
Holidays in my family are tied to tastes. Yes, you have the classic turkey on Thanksgiving and big Christmas dinner, but I am known to switch those up. Therefore, for my family, it's the breads and desserts that transport us into the holiday spirit.
The Taste of Fall
My children loved having chocolate chip banana bread as a breakfast treat when they were growing up. However, once the leaves start falling, I tend to put the banana bread recipe card away and pull out my delicious gluten free pumpkin bread recipe. The spices help bring the flavors of fall into my home. Gluten free pumpkin bread completes the plate for a big family breakfast with eggs and sausage or can stand alone for a delicious snack.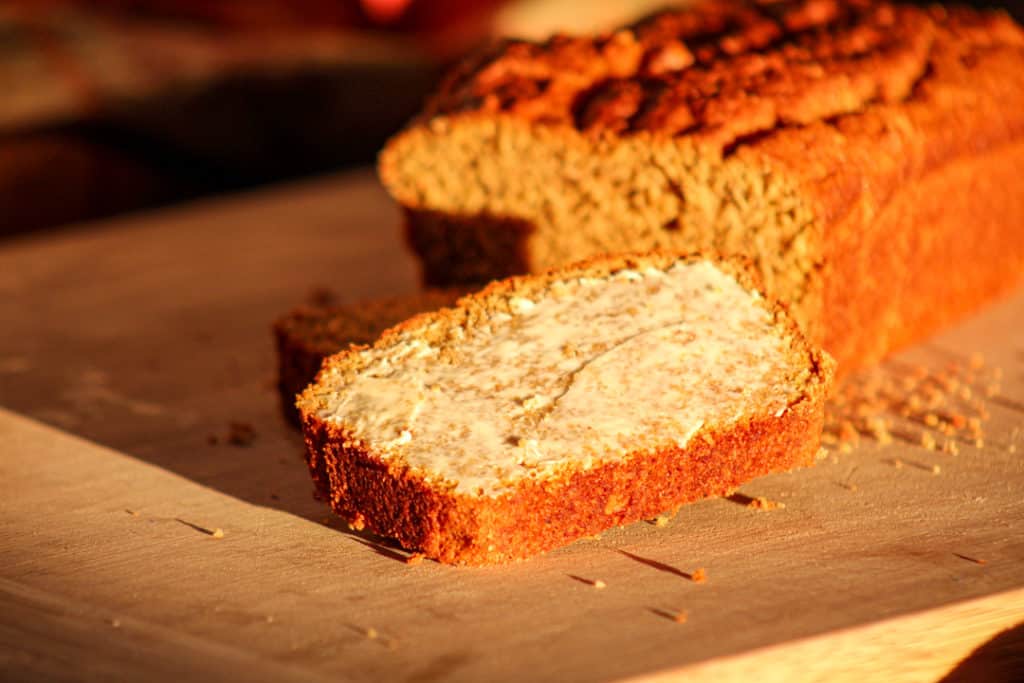 Optional Mix-In's
A nice slice of gluten free pumpkin bread by itself is a delicious treat, but if you want to add some extra protein and crunch consider adding pecans or walnuts. On the other hand, if you have a bit of a sweet tooth, chocolate chips transform this gluten free pumpkin bread into a tasty dessert.
Ingredients For Gluten Free Holiday Pumpkin Bread
Wet Ingredients for Gluten Free Holiday Pumpkin Bread
6 eggs at room temperature
1 cup of sugar
1 cup of brown sugar
3/4 cup of melted coconut oil
1 1/2 cup of pumpkin puree
1/2 to 1 cup of water
Dry Ingredients for Gluten Free Holiday Pumpkin Bread
3/4 cup of coconut flour
1 1/4 cup of millet flour
3 cups of oat flour
2 tsp salt
3 tsp ground cinnamon
1 tsp ground ginger
2 tsp ground nutmeg
1 tsp ground cloves
1 tsp baking soda
4 tsp baking powder
1 Tbsp Benefiber (optional)
1 cup of pecans, walnuts, or chocolate chips (optional)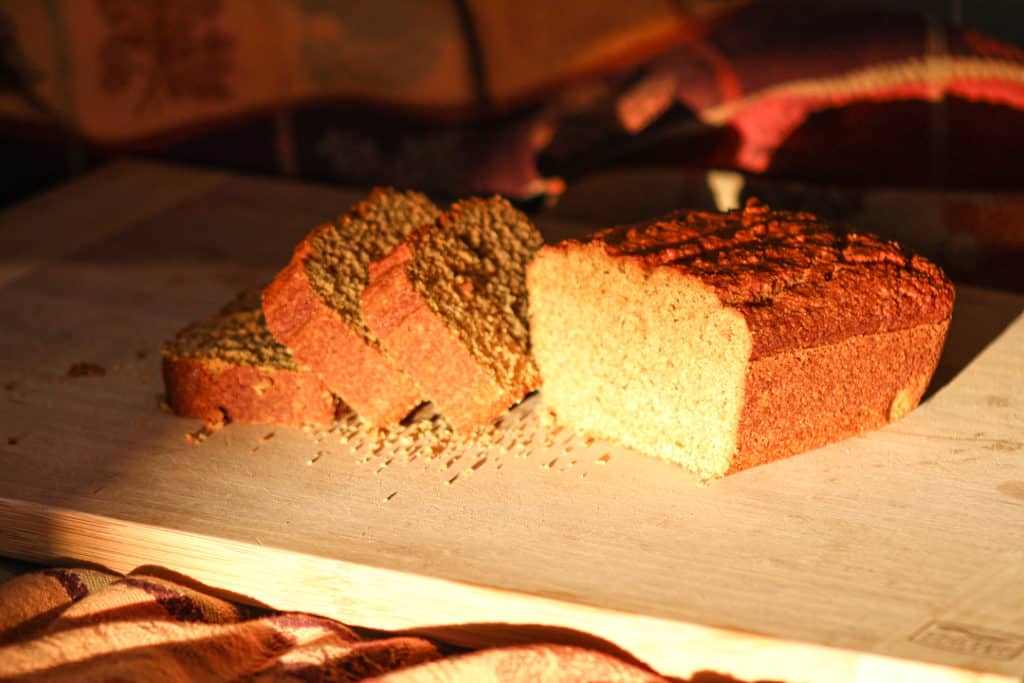 Directions for Gluten Free Holiday Pumpkin Bread
Preheat the oven to 350 degrees.
Spray and line two loaf pans with parchment paper.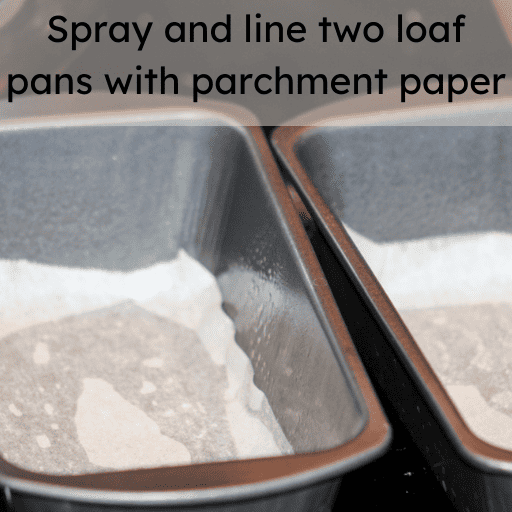 3. Crack 6 room temperature eggs in a mixing bowl. Then mix on high for 2-3 minutes until light and frothy.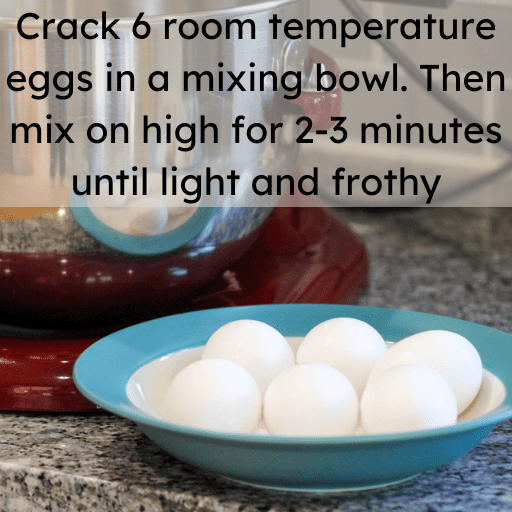 4. Slowly add 1 cup of sugar and continue beating for another 3 minutes.
5. Next, turn the mixer off and add 1 cup of brown sugar, 3/4 cup of melted coconut oil, and 1 1/2 cups of pumpkin puree. Mix on high again for around a minute. Stir in 1/2 to 1 cup of water. This is a great time to rinse out the left over pumpkin left behind in the measuring cup.
6. In a large bowl, combine all of your dry ingredients for the gluten free holiday pumpkin bread:
7. Stir all the dry ingredients together until there are no clumps and the spices are evenly distributed. Then, pour the wet ingredients into the dry ingredients.
8. Gently fold the wet and dry ingredients together.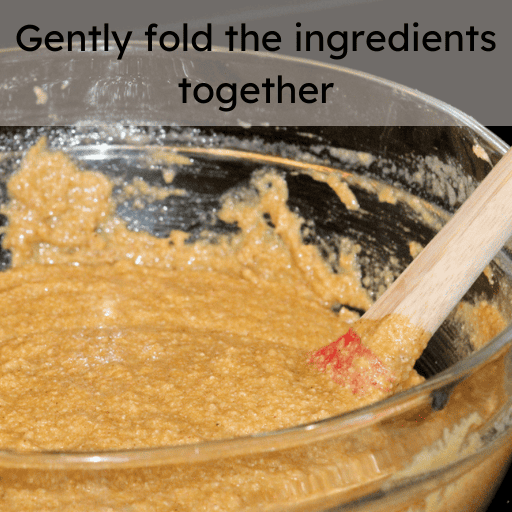 9. Pour the gluten free holiday pumpkin bread batter into the prepared loaf pans until they are three-fourths of the way full. If you have extra batter, then you can bake it in a mini loaf pan or small Corning ware dish. If batter looks dry, add more water until batter looks wet and is easy to pour out. The amount of rainfall on grain crops affects moisture content of each grain. Thus, some years, you have to add more water to bread recipes throughout this blog.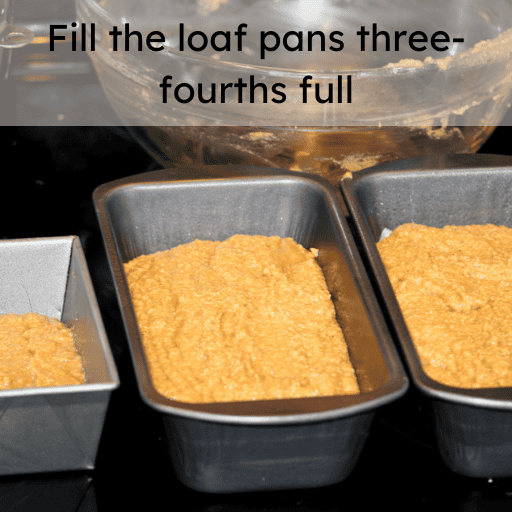 10. Bake for 45 minutes. The loaves should be golden brown. When tested with a knife, it should come out clean.
11. Allow the loaves to cool in the pans for around 10 minutes. Then, remove them from the pans placing them wax paper side up on a cooling rack. I like to leave the paper on until I am ready to cut that loaf. Make sure loaves are completely cool before storing. Depending on the temperature of your kitchen, they can take one to two hours to cool.
Printable Recipe Card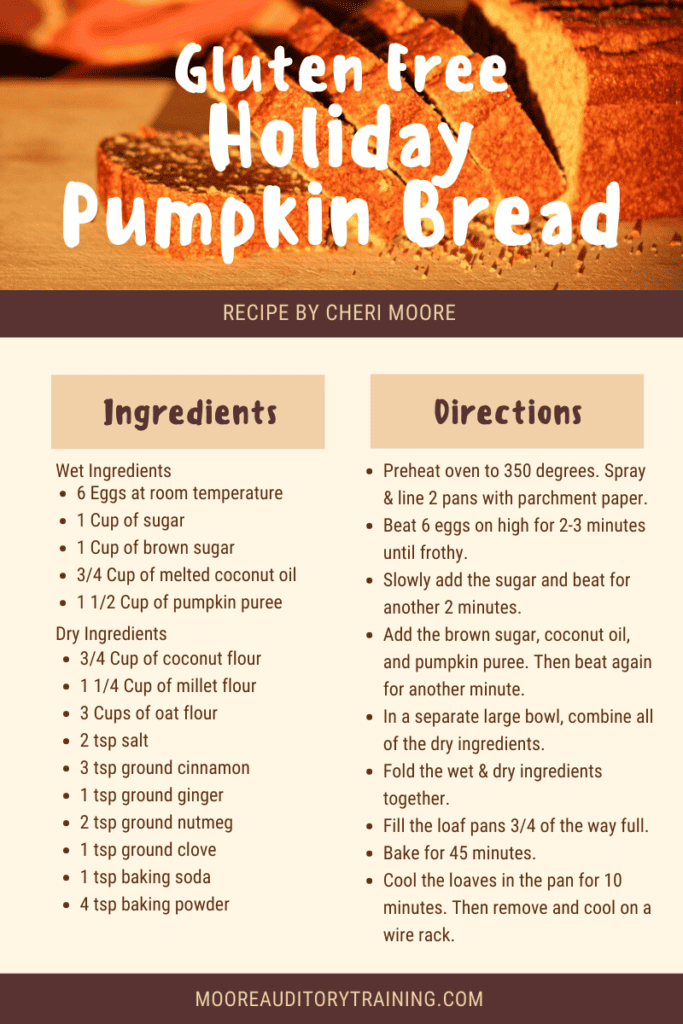 A Note on the Flours for Gluten Free Pumpkin Bread
It took a lot of trial and error to find the right measurements for each of the flours in this gluten free pumpkin bread recipe. This combination creates a loaf with an enjoyable texture, structure, and flavor. It also removes the need for a gluten free all-purpose flour. Which if there is a nut allergy in your home can pose a bit of a challenge because of the popularity of almond flour. My homemade flour combination is safe for homes with nut allergies.
Kitchen Equipment
A Mixer – Investing in a good mixer is 100% worth the cost if you bake for your family often. I love the kitchen aid mixer because of all of its different attachments. However, a hand mixer will get the job done too. It just may take a bit longer when mixing to achieve the same results.
A Grain Mill – If you are new to the world of baking investing in a grain mill may sound like a bit much, but it has the potential to save you money and allow you to use more or new grains. Yes, you can find most flours at specialty grocery stores, but they are not in the same price range as the all-purpose flour in the baking section at Walmart. If you are committed to a gluten free lifestyle due to an allergy or personal choice, a grain mill is worth the investment. Here are two mills that my daughter and I have purchased and loved.
I have used the WonderMill for well over 10 years. It is able to mill multiple types of grain and produces a nice fine flour. Unfortunately, I had to buy a coffee mill to make the millet flour.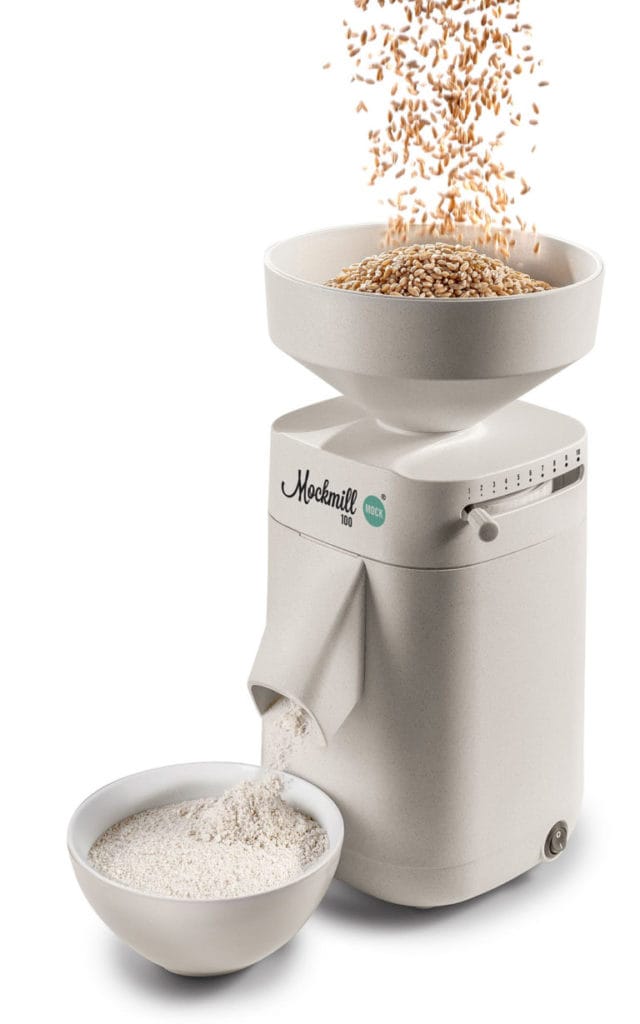 My daughter invested in a Mockmill when she moved out of our house and she loves it. It is a bit more expensive than the WonderMill, but can do more and is easier to store. Best of all, it turns millet into flour.
Leave a Comment
I hope you enjoy this delicious gluten free holiday pumpkin bread recipe!