Fall weather is just around the corner here on the coast and the holidays are coming. With that comes all things pumpkin. These gluten & dairy free pumpkin spice pancakes are the perfect way to bring fall flavors into your home on the weekend.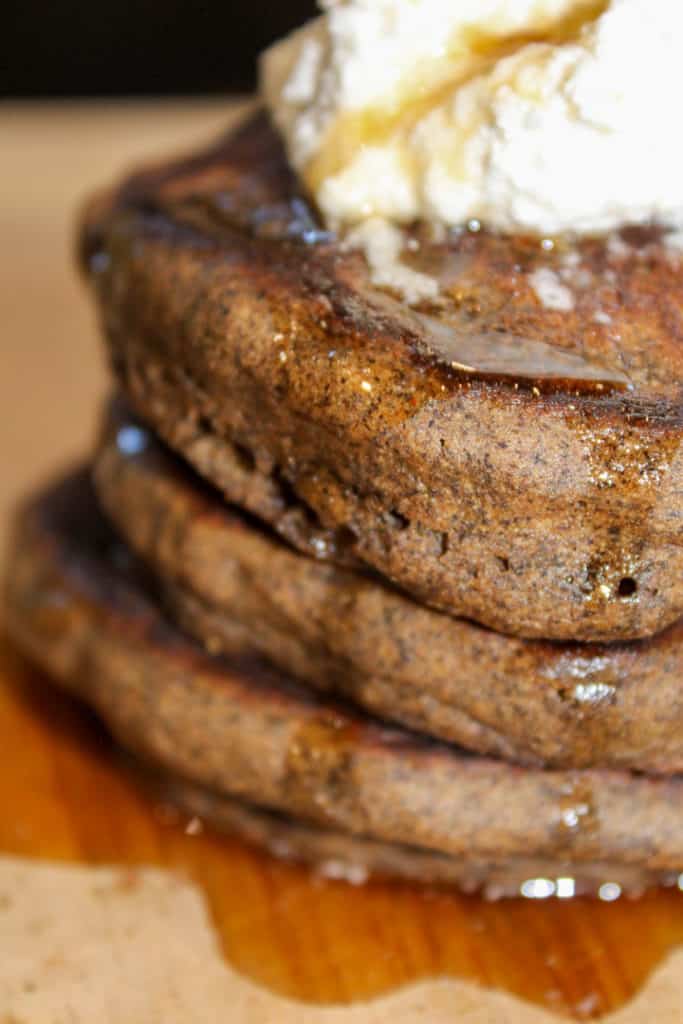 Decreasing Inflammation With Gluten Free Flours
In my late twenties, I began to suffer from chronic pain. Despite milling grains, gardening, and cooking from scratch, I continued to experience constant pain. Unfortunately 16 years later, my daughter also struggled with chronic pain and hives. I was shocked to learn about induced-rheumatoid arthritis triggered by gluten and milk protein, casein. I was milling the wrong grains.
Do you want to learn more about why food sensitivities cause inflammation? If so, enjoy my blog Affordable Gluten Free Cooking and Baking Tips.
Inflammation can occur anywhere in the body, including the brain and hearing system. Our Six Foods Contributing to Inflammation blog and our FREE Food Elimination Tracker helps you learn about the effects of food upon your body.
Shopping List for Gluten & Dairy Free Pumpkin Spice Pancakes
2 Eggs
1 Can of Coconut Milk
1 Can of Goat Milk
3 Tbsp Vegan Butter
1 Cup of Pumpkin Puree
1 Tbsp Vanilla or Maple Extract
3 Tbsp Maple Syrup
1 1/2 Cups of Buckwheat
1 Tbsp Benefiber (optional)
2 tsp Baking Powder
1/2 tsp Baking Soda
1/2 tsp Salt
1 1/2 tsp Cinnamon
1/4 tsp Ginger
1/4 tsp Nutmeg
1 tsp Ground Allspice
Step By Step Directions for Gluten & Dairy Free Pumpkin Spice Pancakes
Step 1:
Crack 2 eggs in a bowl and whisk vigorously or beat with a mixer until frothy.
Step 2:
Combine one can of coconut milk with one can of goat milk. Stir them together with a fork or use a blender. Measure out 1 cup of your creamy coconut/goat milk mixture.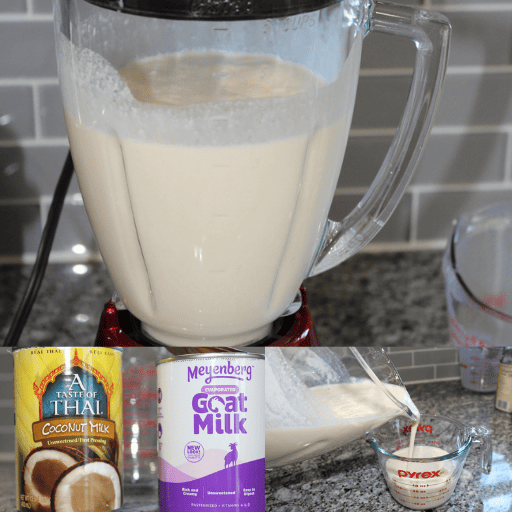 Step 3:
Melt 3 Tbsp of vegan butter. I like to use the brand Smart Balance or Country Crock.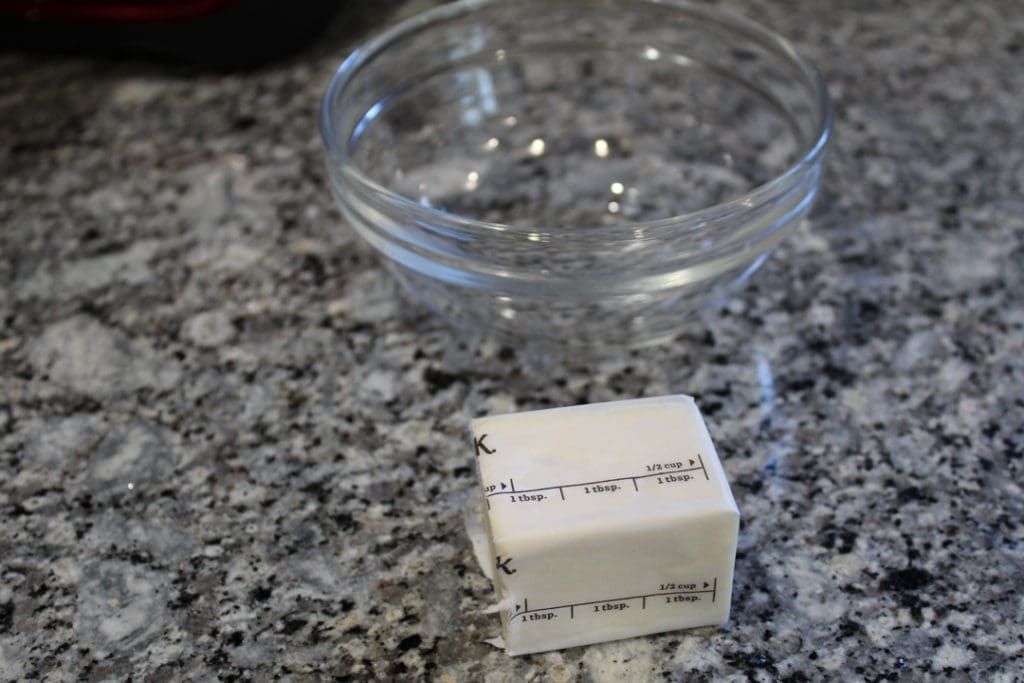 Step 4:
Combine eggs, milk mixture, and melted butter in a large bowl. Stir well.
Step 5:
Add 1 cup of pumpkin puree, 3 Tbsp of maple syrup, and 1 Tbsp of vanilla or maple extract. Beat until completely combined. This completes the wet ingredients for your gluten & dairy free pumpkin spice pancakes.
Step 6:
In a separate bowl, combine 1 1/2 cups of flour, 1 Tbsp of Benefiber, 2 tsp baking powder, a 1/2 tsp of baking soda, and a 1/2 tsp of salt. Stir well.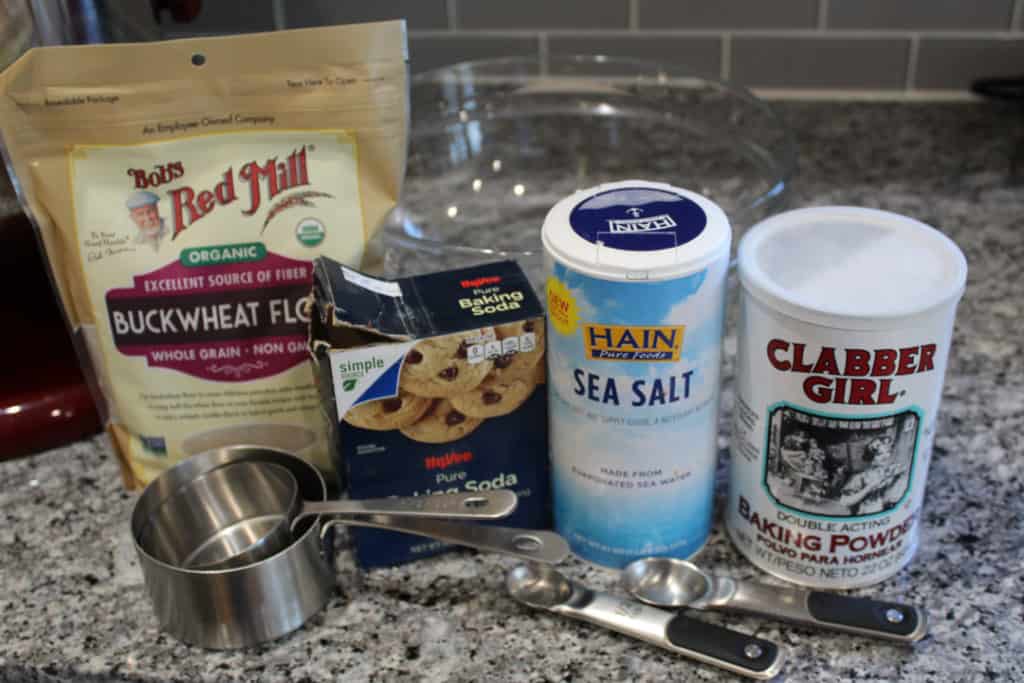 Step 7:
Next, add all of your spices to the flour mixture: 1 1/2 tsp of cinnamon, a 1/4 tsp of ginger, a 1/4 tsp of nutmeg, and 1 tsp of allspice. Stir well so spices are evenly distributed in the flour resulting in delicious gluten & dairy free pumpkin spice pancakes.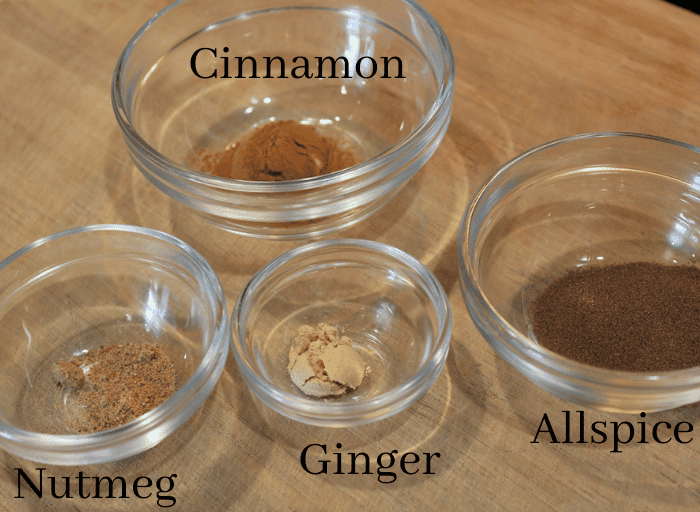 Step 8:
Gently combine your wet and dry ingredients using a fork. Stir until there are no clumps left in your pumpkin spice pancake batter.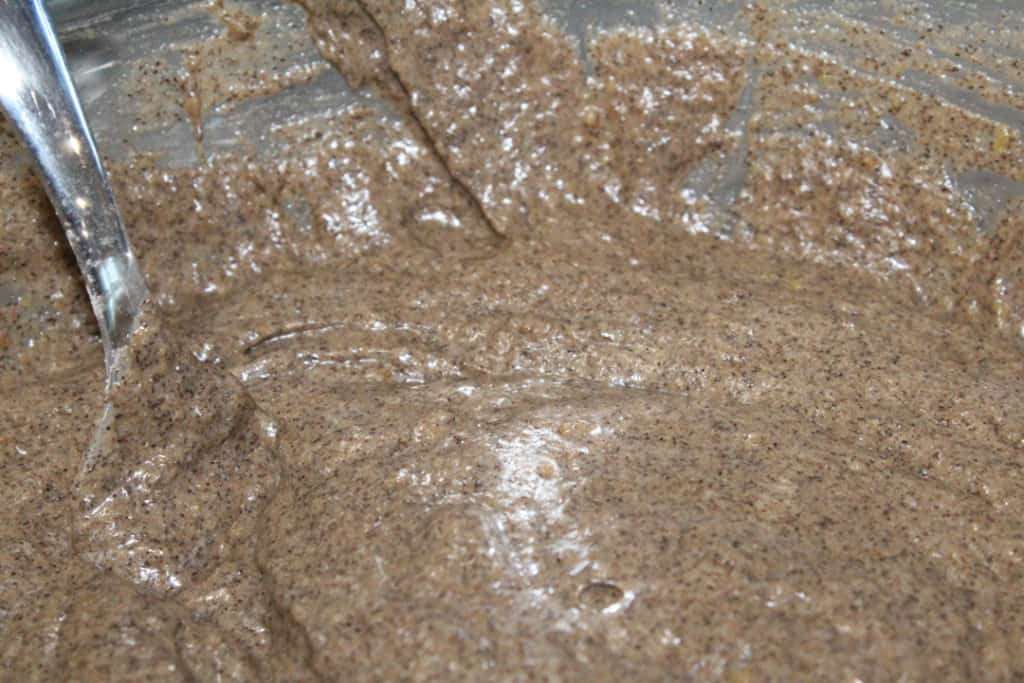 Step 9:
Cook in a cast-iron skillet or nonstick skillet on the stovetop with a dollop of butter melted in the pan over medium-low heat. If you are using an electric skillet, preheat it to 350 degrees.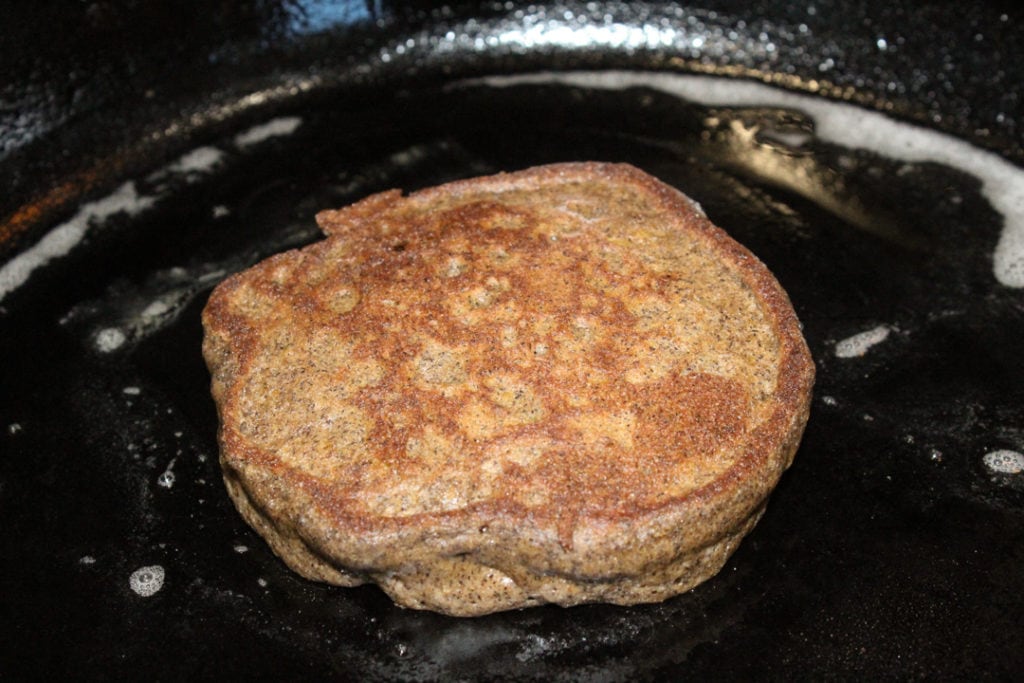 Step 10:
Enjoy your pumpkin spice pancakes with your favorite toppings! Keep scrolling for Maple Pecan Topping recipe.
Gluten and Dairy Free Pumpkin Spice Pancake Recipe Card
Topping Ideas
These pumpkin spice pancakes are delicious topped with maple syrup. The taste is the definition of fall. If you love to dress up your pancakes for a big breakfast on the weekend, then try serving it with TruWhip Whipped Topping, apple butter, cooked cinnamon apples, or even a maple pecan topping.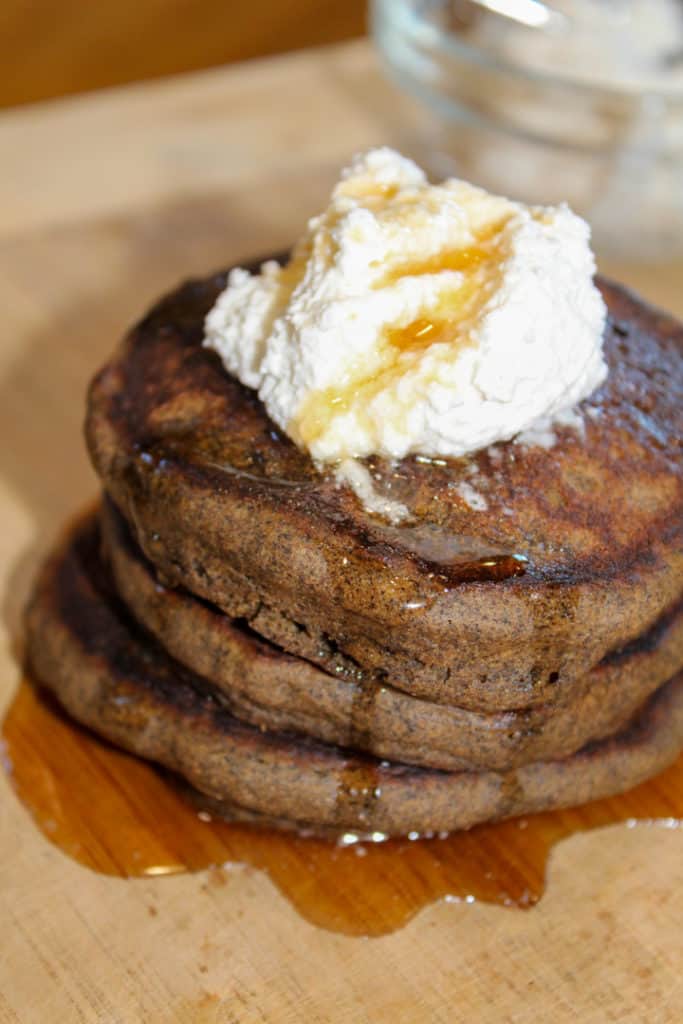 Maple Pecan Topping
1/2 cup of maple syrup
1/2 cup of brown sugar
1/4 tsp of salt
1/2 cup of vegan butter
1/2 cup of chopped pecans
In a saucepan over medium heat, combine the maple syrup, brown sugar, butter, and salt. Stir continuously as the brown sugar dissolves. Bring the mixture to a boil and then reduce the heat to low. Allow it to simmer for 3-5 minutes until the syrup is smooth. You want to make sure all sugar granules are dissolved. Remove the pan from the stovetop and stir in the pecans. Serve over your warm pumpkin spice pancakes.