It is apple picking season! If you have some freshly picked apples in your kitchen, then you need to make this mouth-watering recipe! While the taste reminds me of fall, this gluten & dairy free apple spice cake is scrumptious throughout the year.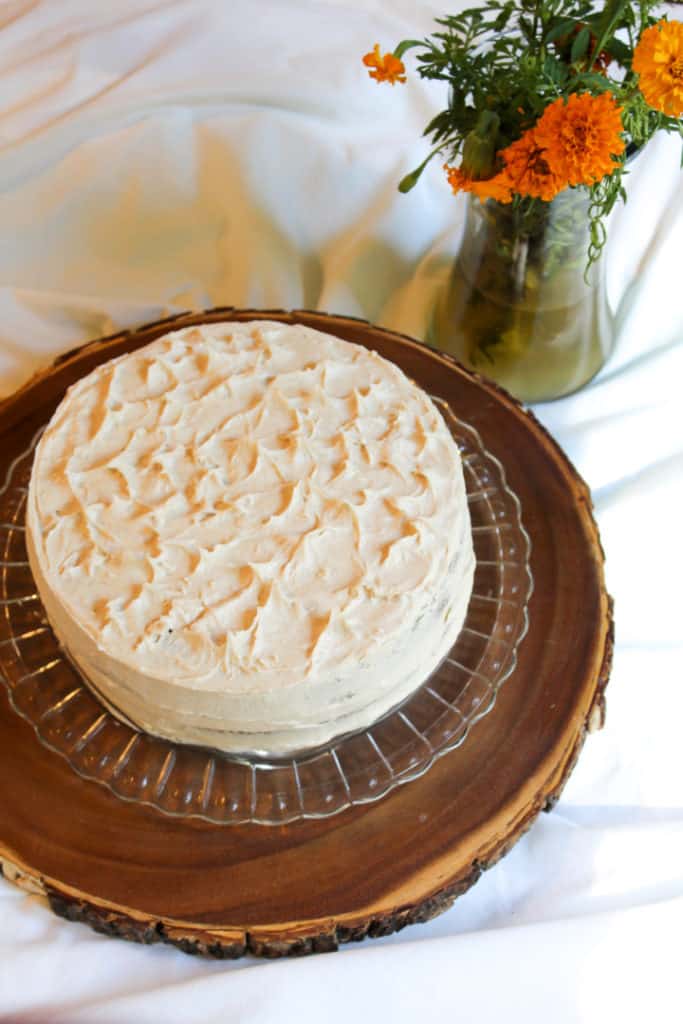 Apple spice cake has the perfect balance of natural sweetness from the apples and applesauce but also the savory flavors of fall from the cinnamon and nutmeg. In order to maintain that scrumptious balance, I like to keep my frosting layers relatively thin.
Apple Spice Cake Ingredients
4 Eggs
1 Cup of Sugar
1 Cup of Coconut Oil
1 Cup of Applesauce
1 Teaspoon of Vanilla
2 Cups of All-Purpose Gluten Free Flour (I like to use Kind Arthur or Namaste)
1 Cup of Brown Sugar
2 Teaspoons of Baking Powder
1 Teaspoon of Baking Soda
1 1/2 Teaspoons of Cinnamon
1/2 Teaspoon of Nutmeg
1/2 Teaspoon of Salt
1 Apple Peeled and Diced (I like to use Honeycrisp)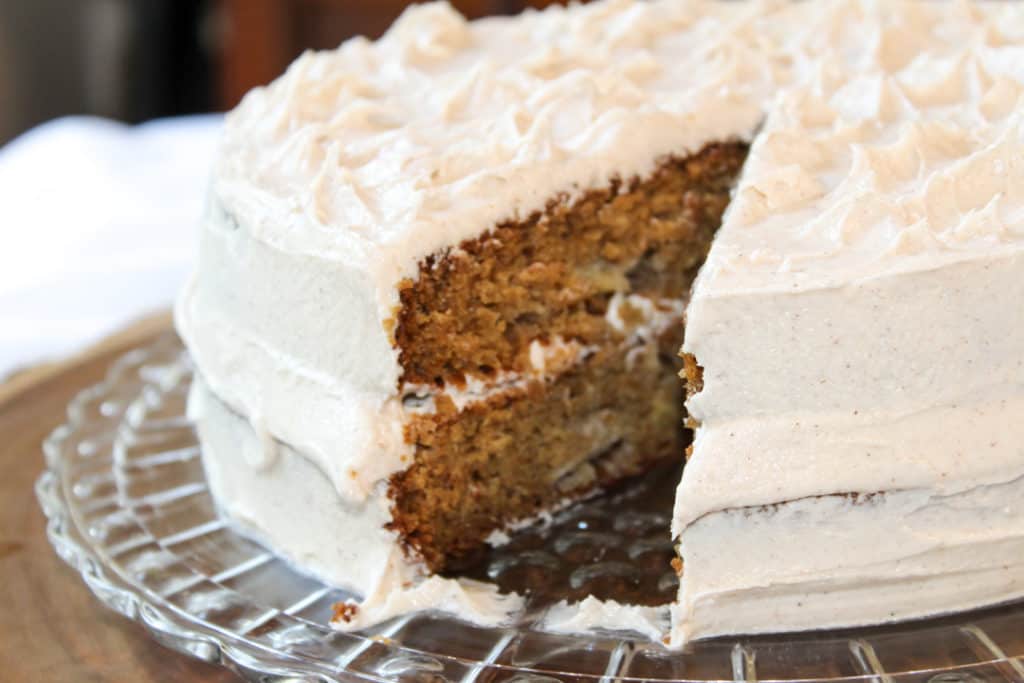 Cinnamon Buttercream Frosting Ingredients
1 Cup of Softened Butter (I use Country Crock's Plant Butter)
4 Cups of Powdered Sugar
2-3 Tablespoons of Dairy Free Milk (any dairy-free milk variety will work)
1 Tablespoon of Vanilla
1 Teaspoon of Cinnamon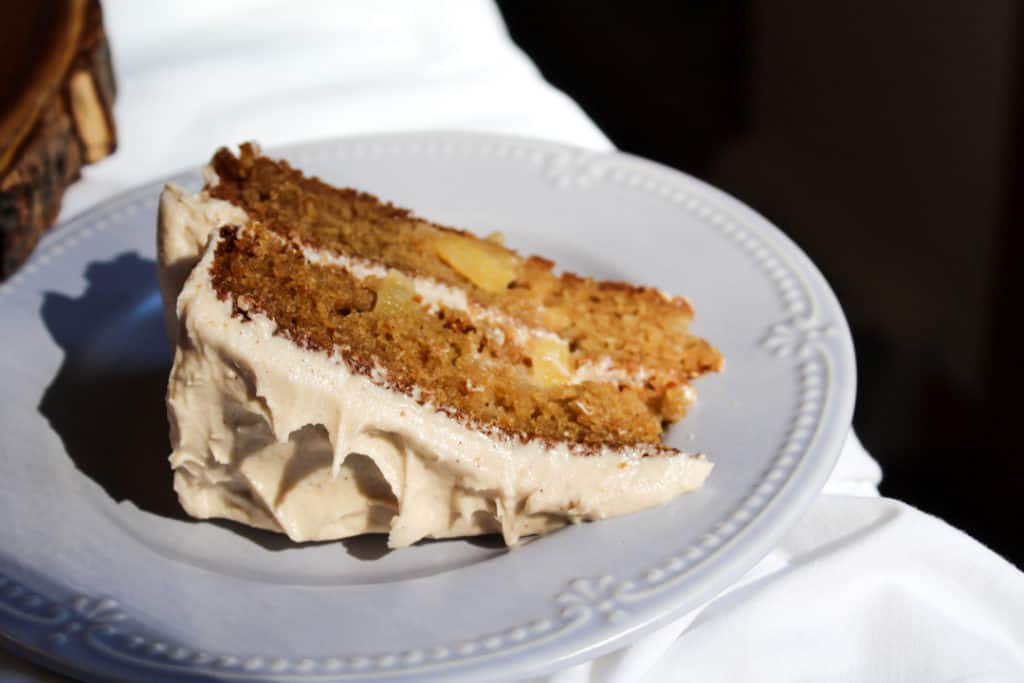 How to Make a Gluten and Dairy Free Scrumptious Apple Spice Cake
Step 1: Prep the Pans and Preheat the oven
To start, preheat your oven to 350 degrees. Spray two 9-inch cake pans with cooking spray or wipe them down with olive oil. Line the bottom of the pans with parchment paper to prevent sticking and make it easy to remove your cakes.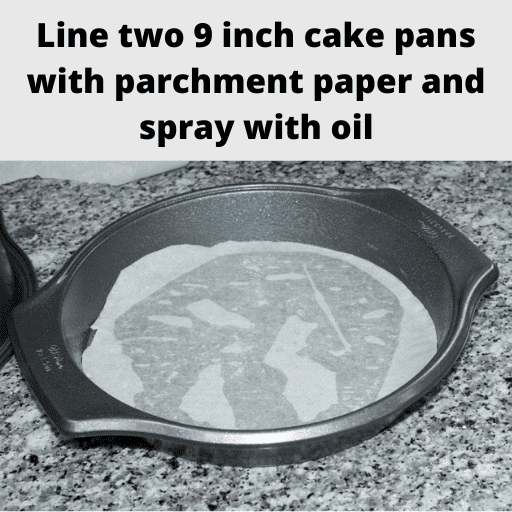 Step 2: Fluff the Eggs
Using a mixer, beat four eggs on high for about a minute. Slowly add the 1 cup of sugar while the mixer is going and continue to beat until it is thick and fluffy (3-5 minutes).
Step 3: Finish Mixing Wet Ingredients for the Apple Spice Cake
Turn the mixer to low. Then, add 1 cup of melted coconut oil, 1 teaspoon of vanilla, and 1 cup of applesauce to the bowl. Mix until just combined.
Step 4: Mix Dry Ingredients for the Apple Spice Cake
In a separate bowl, stir together the flour, brown sugar, baking powder, baking soda, cinnamon, nutmeg, and salt: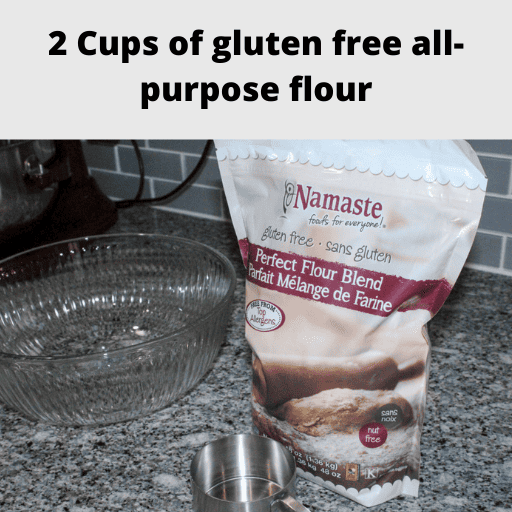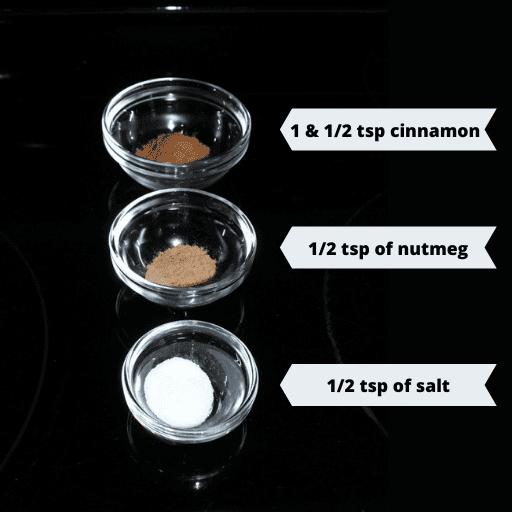 Step 5: Combine Wet and Dry Ingredients
Remove the bowl from the mixer and pour it over the dry ingredients. Then, use a spatula to fold all of the apple spice cake ingredients together. Use the folding technique to preserve the fluffiness you achieved from beating the eggs. I like to treat the batter like a sponge cake batter.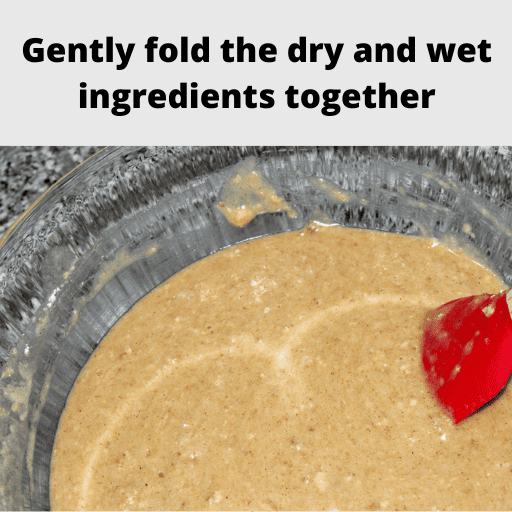 Step 6: Cut the Apple
Peel and dice one large apple. In my opinion, a Honeycrisp apple is perfect for this recipe, but use whatever you have on hand. Gently fold the apple pieces into the batter.
Step 7: Pour the Apple Spice Cake Batter
Next, pour the apple spice cake batter evenly into the two prepared pans.
Step 8: Bake the Apple Spice Cake
Bake the cakes for 35-40 minutes until they are golden brown. Test with a sharp knife in the center to see if the apple spice cake is cooked through.
Step 9: Cool the Cakes
Cool the cakes on a wire rack in the pans for about 15 minutes. After 15 minutes, remove the cakes from the pans and allow them to cool completely before icing. (roughly an hour)
How to Make Cinnamon Buttercream Frosting
Using an electric mixer, add 1 cup of softened butter and two cups of powdered sugar to the bowl. Mix on high until creamy.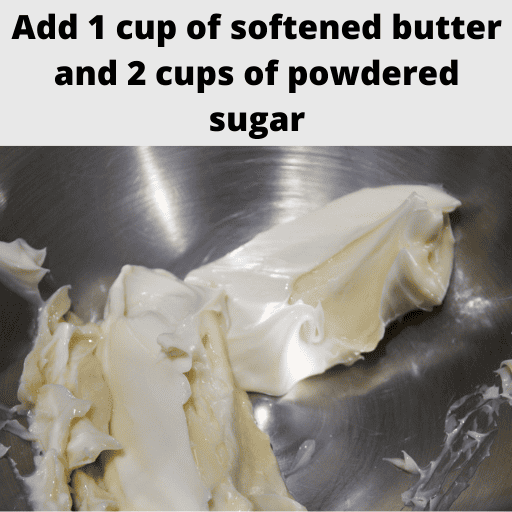 Add the third cup of powdered sugar and mix on high until creamy again.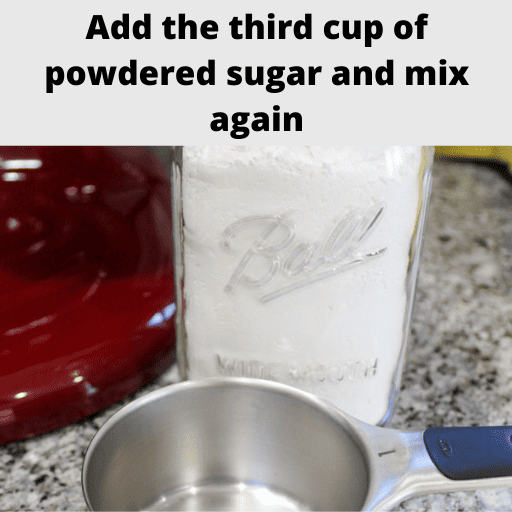 Lastly, add the milk, vanilla, cinnamon, and last cup of powdered sugar. Mix on medium until completely combined and creamy.
If you happen to have canned goat milk on hand, use it as the milk component in the frosting. It acts as more of a cream and creates a delicious frosting.
Tips on How to Frost a Cake
Frosting a cake can be tricky. Especially a gluten free cake because they tend to have less structure and be a bit more crumbly than your average cake. This apple spice cake however has great structure!
When frosting with buttercream, use a piping bag or a zip lock bag with a small hole in the corner. To prevent waste and a mess, lay down a large rectangle of plastic wrap on the counter. Scoop most of your frosting onto the plastic wrap and then roll up your frosting. Fold one end over the roll and cut the other end close to your frosting log. Then you can easily place your frosting into your piping or ziplock bag.
Before placing your cake on your platter, put a dollop of frosting in the center to keep your cake from moving. Once that is done, place the bottom layer of your apple spice cake on your platter. Using your piping bag, squeeze out the frosting in a circular pattern over the top of the cake. Then use a knife to gently smooth out the frosting.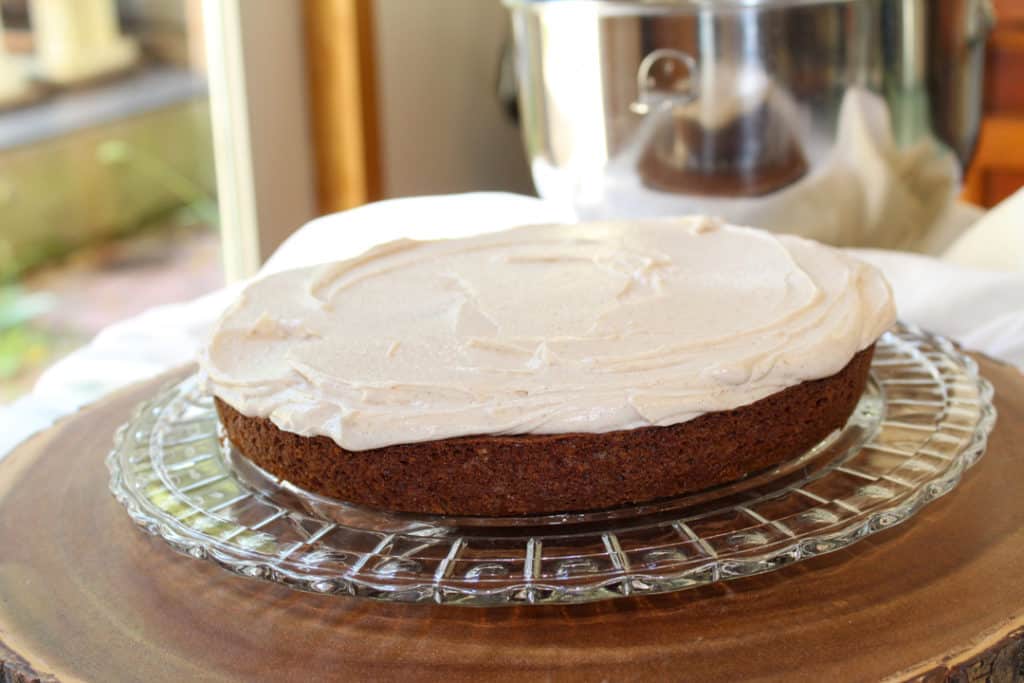 Place your second layer of apple spice cake on top and gently press down. Then repeat the same process to cover the top of the cake. (Place your base layer correct side up and your top layer upside down to give your cake a nice edge on top)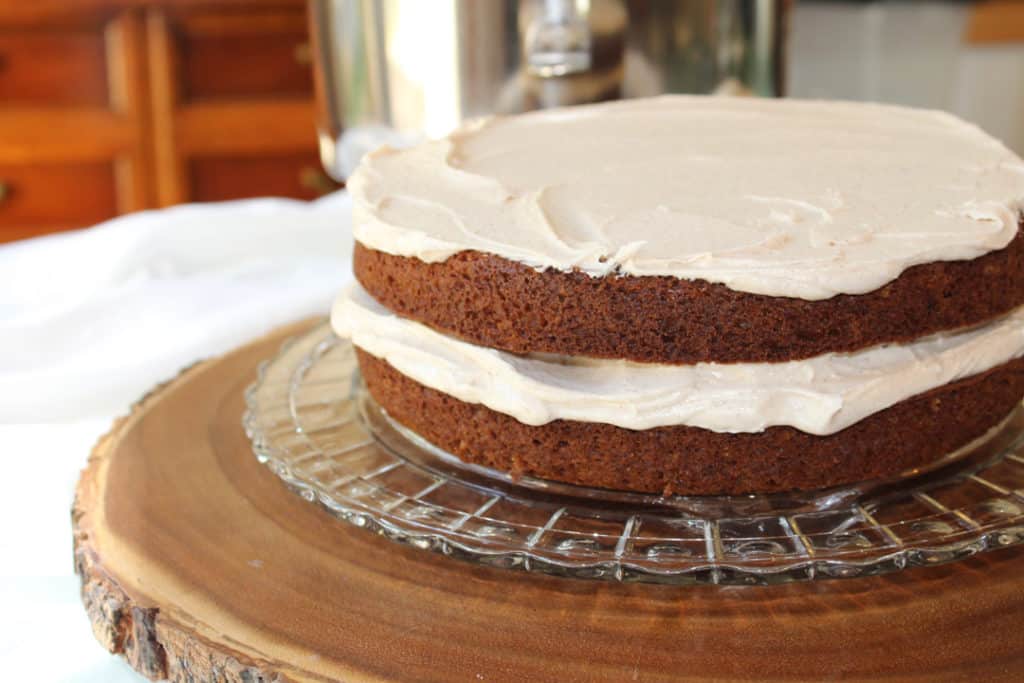 To frost the sides, pipe a generous amount of frosting along the top edge of the cake and gently spread it down over the sides of the cake.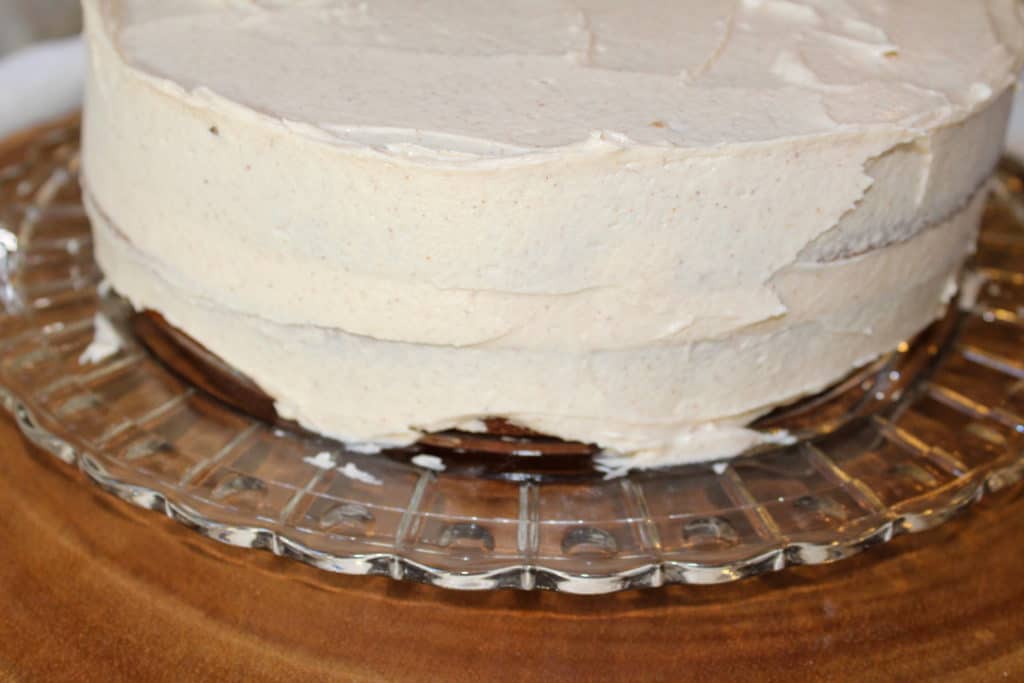 Fill in any gaps or holes on the sides of your cake using the piping bag and a knife. Clean off your knife as needed to prevent frosting from falling on the platter or going where you don't want it to go.
Gluten and Dairy Free Apple Spice Cake Recipe Card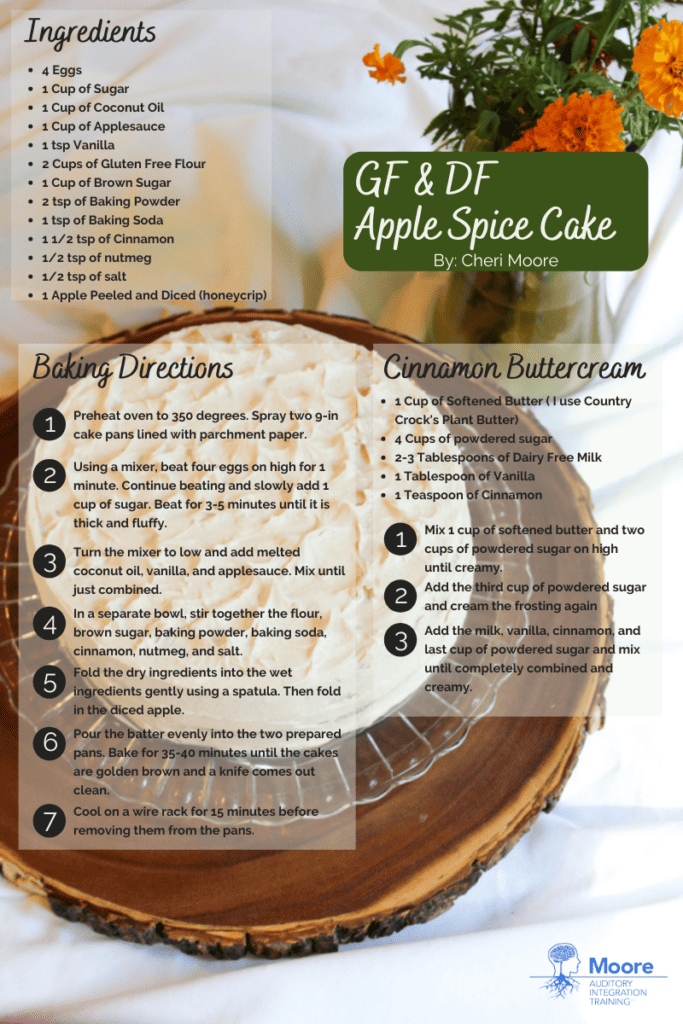 Click below to download the printer-friendly copy
Shop This Post
Gluten free all-purpose flour: You can find Namaste's gluten free flour at most specialty grocery stores. You can also order it online on their website or on Amazon.
Coconut Oil: When baking, it is best to use refined coconut oil. However, virgin coconut oil will be okay with this recipe because it is baked at a moderate temperature. Refined coconut oil has a high smoke point therefore if you are baking something at a high temperature or frying something, that is what you want to use. Nutiva has a great post on the top 5 things to know about coconut oil.
Leave a Comment
When my daughter had to remove gluten from her diet, baking became a whole new challenge. We were already a dairy free household and the additional restrictions meant I needed to find or create new recipes once again.
Undoubtedly, there were lots of failures in the beginning. However, over the course of a few years, my recipe box began to fill up again. Hooray!
Finding gluten free products we trusted and enjoyed was certainly one of the biggest hurdles we had to overcome. Not all gluten free flours create the same taste or texture. There was a lot of trial and error, but we now have a pantry full of products we love and trust!
Leave a comment below with your favorite gluten free baking products to help those who may just be beginning their gluten free journey.